I'm gonna enter my 6-Digit Access Code.
Can you guess the code?
After watching the video for a good 30 seconds, if your first guess isn't "280517", you need LOCKLY®.
LOCKLY® is the most advanced Smart Lock designed for homes, offices, and rental properties. Its patented peep-proof technology takes your home security to the next level. Because it doesn't connect to the internet, it makes hacking unlikely, and due to the advanced algorithm by PIN Genie™, it won't be easy for an intruder to guess your code.
Today the company manufactures the world's most advanced smart locks and property tech cloud services enabling unprecedented door access capabilities for homeowners, smart rentals, builder/developers, and smart hotels.We may not have invented the smart lock itself, but we are perfecting it with cutting-edge features such as our patented PIN Genie technology and 3-D biometric fingerprint scanner. LOCKLY® is committed to keeping the bad guys out while providing unprecedented access to the right people, at the right time, on the right terms that YOU determine.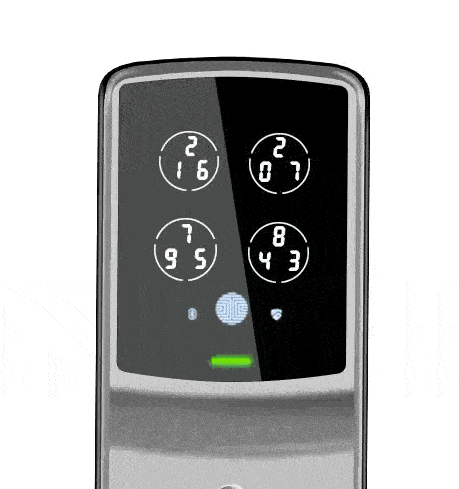 At LOCKLY®, making sure you are secure is the most important.
When the keypad is displayed, a set of numbers is first displayed in a series of 4 buttons, with 3 numbers in each button.
These numbers are randomly distributed across the buttons and they may may not repeat.
After each successful or unsuccessful input of the access code, the digits on the screen will randomly shuffle and rotate, making the next set of buttons displaying different numbers for the next user.
With this algorithm, the location of the buttons you are pressing are always different, making it hard for intruders to guess the actual code.
We regularly innovate and update our property cloud technology services (the heart of Lockly smart locks) which run on Amazon Web Services (AWS) to protect against picking, bumping, hacking and other common forms of lock break-ins.We are proud to be one of the most secure and advanced smart locks on the planet.
Our Mission is to provide unprecedented secure and convenient experience with smart home solutions to our users. - LOCKLY®