 cjdefrang
BEST INVESTMENT IN A DOOR LOCK EVER! Why I say investment is because it is the most expensive out there of its kind, but is the only one that actually works well. I have owned a couple keypad door knob locks, and have read many customer reviews on others like this one. We have been using this one for a few months now and has worked & held up great. I really liked the thought of a finger print entry, but was cautions as some people have had issues with it not working sometimes. Honestly the finger print unlock works so good, that that is all my wife and I use. It has less then a sec delay when reading, and there has only been a few times it miss read and had to press our finger on it twice. I would recommend if someone is having an issue with it reading your finger print, that you just add another finger print entry, and do the same finger. Then it has twice as many scans of the same finger, and would be more likely to match and unlock the door. The only thing I can say that I don't like about it, is the app is a bit slow to unlock the door remotely over the internet when this door lock is connected to WiFi internet. Even if you keep the app open in the background, and takes about 12 secs for it to connect (not talking about Bluetooth) and to give you the screen to be able to unlock/lock the door. I have the Tailwind garage door opener that works similarly that only takes 2-3 secs to connect remotely over the internet. I believe Lockly could improve this remote access late ncy. juan316
@username
I bought months just happy I like ease security very nice Anthony
@username
Easy and Reliable! Best lock ever. No more fumble for keys. Many ways to unlock. RexEffect
@username
Works well Love how the lock works. we have 3 of them. But for american doors you have to move the hole down on the door Asawiers
@username
Really good product I really like it, the only thing I'm disappointed at is that Force's you to buy their hub to use the WiFi which doesn't make sense to me. If I have my hub I don't need to have 10 of them to use for every product I buy. I should be able to get it working specialty with the price we are paying for it.
Lockly® is an easy-to-use smart lock solution that is meticulously designed featuring the highest level of security available. With your smartphone, monitor door access from anywhere and securely control who comes and goes.
Lockly's mobile app lets you lock and unlock your door and create access codes for your family, friends and tenants.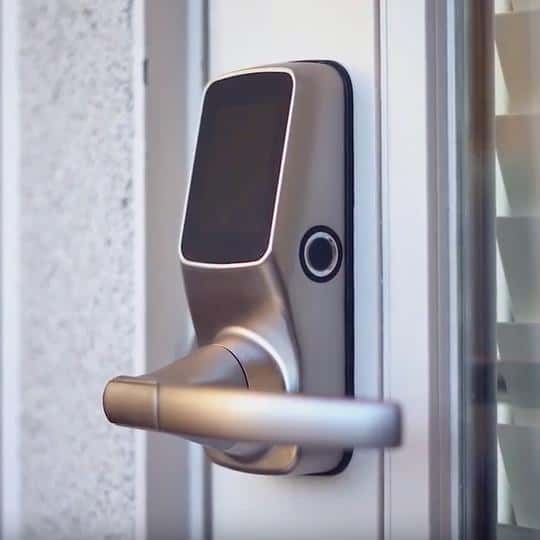 Unlike other locks that use optical readers, both Secure Plus bolt and latch editions come equipped with a capacitive fingerprint reader that stores your fingerprint and helps prevent the use of lifted prints. This technology results in better speed and accuracy, granting access to up to 99 fingerprints in a split second.
When within range, you can unlock, lock, and configure wirelessly through Bluetooth BLE with AES256 Encryption. Lockly® always uses the latest Bluetooth technology for worry-free functionality. No need for extra hubs or equipment.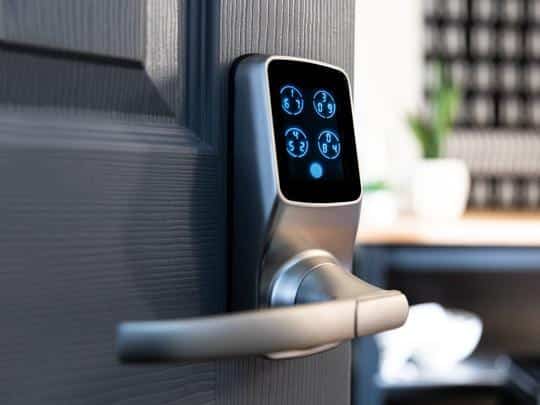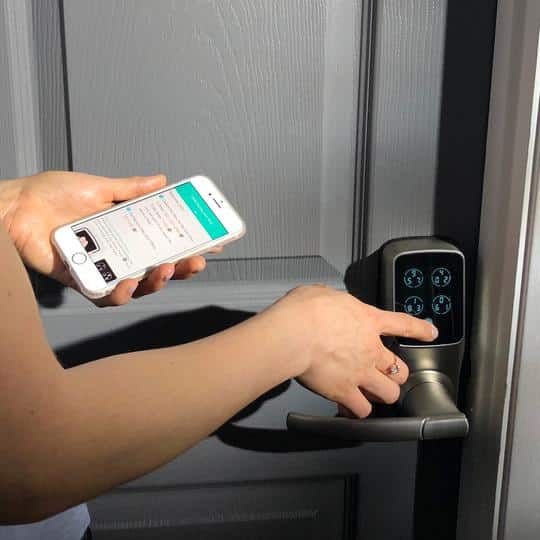 Connect with your guests and grant access to your home even when you're not there. Our Offline Access Code feature allows you to send Access Codes remotely and grant access to your guests without any connection to the internet.
With the Lockly® smartphone app, store up to 8 Access Codes at any given time for family, friends, and guests, as well as monitor entry and exit records. You can also issue temporary eKeys, grant one-time access codes, and set custom durations anytime, anywhere.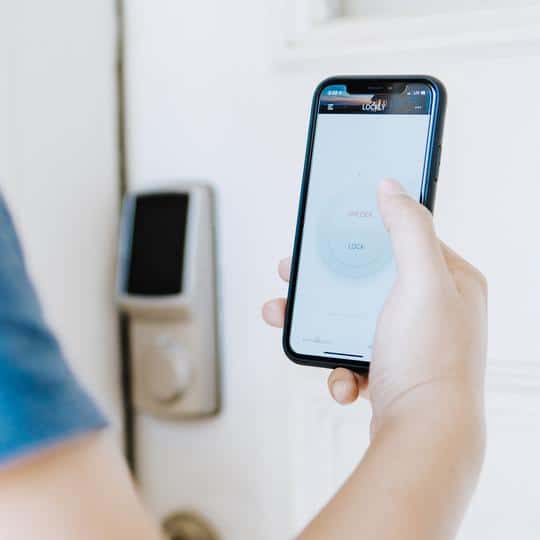 Smart Lock Control Made Easy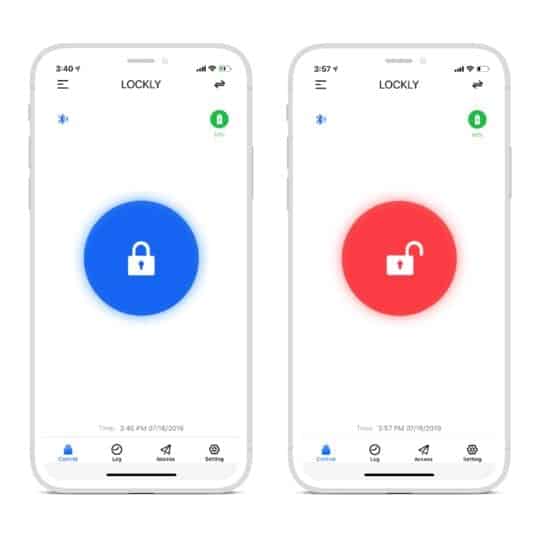 Smart Lock Control Made Easy
Lock and unlock your door wherever you are with your smartphone.
Get notified whenever someone opens or unlocks your door.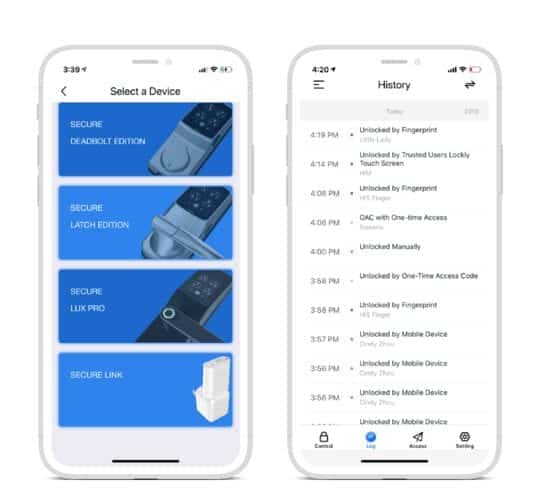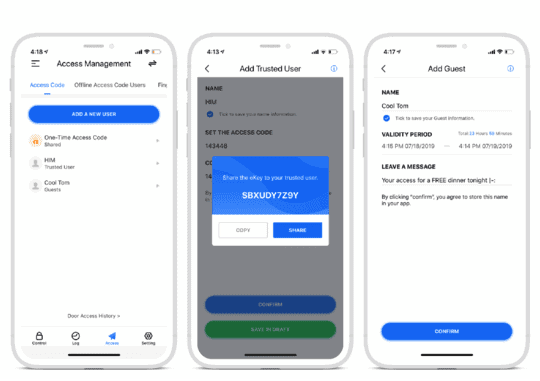 Send an eKey to anyone, anywhere, anytime for keyless entry.
Share your Offline or One-time Access code with your guests.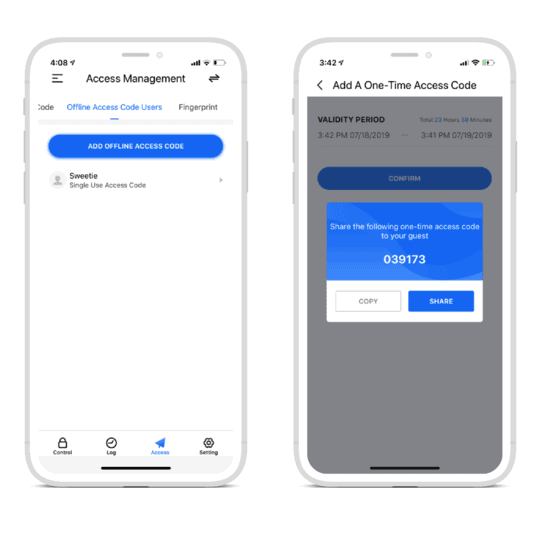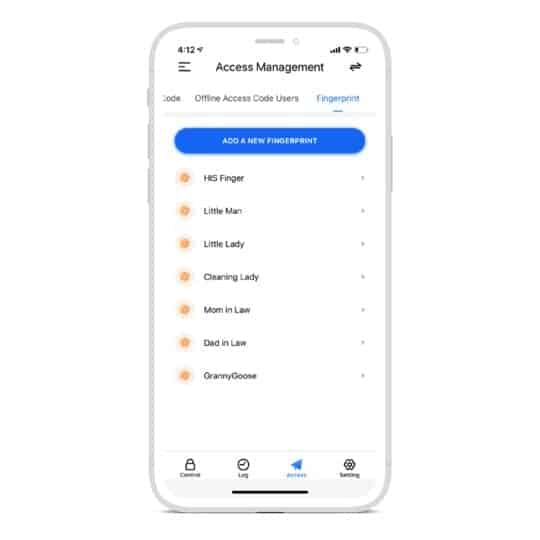 Easily manage different fingerprint profiles.
PREMIUM-GRADE BUILD QUALITY
Beautifully designed with the highest quality materials, Lockly™ Secure smart locks can withstand the harshest weather conditions from wet to freezing temperatures to extreme heat.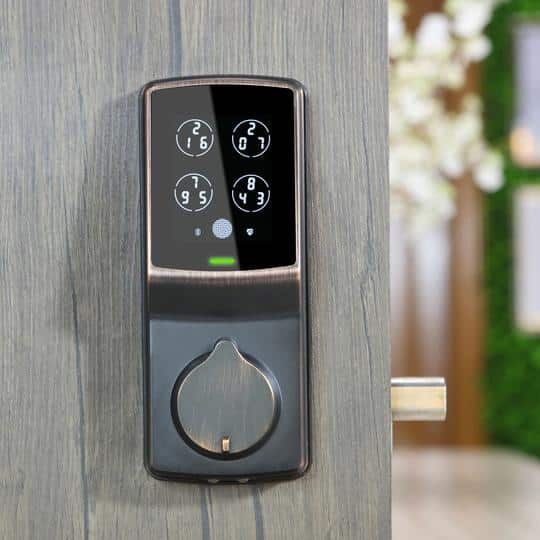 At-Home Privacy Mode
Enables a do-not-disturb feature to disable keypad access. Only authorized users can gain access.

Auto-Lock
Set timers in advance to have your door lock automatically when you need it to.
Long Lasting Battery
Standard AA batteries (included) operates the smart lock for at least one year and is supported by a battery backup.

2 Year Warranty
Lockly™ offers a Lifetime Limited Mechanical & Finish Warranty and a 2-Year Electronics Warranty.

Security Safe-Mode
Keypad-access control disables after multiple failed attempts, up to 1 hour.

For Property Managers
Send one-time codes remotely to guests or provide an eKey for them to unlock with their phone — perfect for Airbnb, VRBO hosts, and rental property owners.
One of the best locks I've ever purchased. Never again do I need to worry about anyone trying to spy on on my access codes. With Lockly™ I know I'm safe.
The build quality on the Secure is comparable to your original lock quality. The solid structure is pretty hard to break and gives me a peace of mind that no one's getting in.
Universal Fitment and Easy Installation
Lockly® Secure Latch and Bolt editions fit both Right swing and Left swing doors from 1⅜" to 2″ thick. Installs easily with our step-by-step instructions in just 10 minutes.